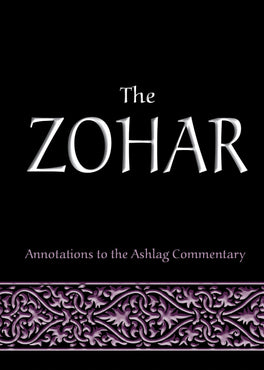 The Zohar: annotations to the Ashlag Commentary
The Book of Zohar (The Book of Radiance) is an ageless source of wisdom and the basis for all Kabbalistic literature. Since its appearance nearly 2,000 years ago, it has been the primary, and often only, source used by Kabbalists. For centuries, Kabbalah was hidden from the public, which was considered not yet ready to receive it. However, our generation has been designated by Kabbalists as the first generation that is ready to grasp the concepts in The Zohar. Now, we can put these principles into practice in our lives.

Written in a unique and metaphorical language, The Zohar: annotations to the Ashlag Commentary enriches our understanding of reality and expands our worldview. However, this text should not be read in an ordinary fashion. We should patiently and repeatedly read and think about each sentence as we try to penetrate the author's feelings. We should read it slowly and try to extract the nuances of the text.

Although the text deals with one subject only how to relate to the Creator it approaches it from different angles. This allows each of us to find the particular phrase or word that will carry us into the depths of this profound and timeless wisdom.

Number of Pages: 520
ISBN #: 978-1-897448-09-0