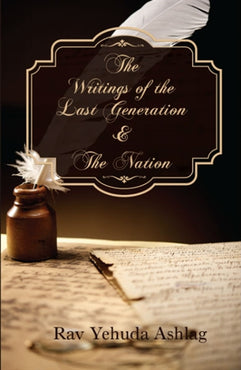 The Writings of the Last Generation & The Nation (E-Book)
On June 5, 1940, Rav Yehuda Ashlag, known as Baal HaSulam (author of the Ladder) for his Sulam (ladder) commentary on The Book of Zohar, published the first copy of the paper, The Nation. In it, he tried to offer a lasting solution to the causes of the Holocaust, and to unite the people of Israel, for he perceived its fragmentation as its prime impediment to happiness. His efforts, however, were thwarted by Jews who opposed his views, and that first issue became the only issue ever to be printed.
After World War II, Baal HaSulam wrote extensively about the causes for the war, and the solutions to anti-Semitism as he perceived them. He never published these writings. We have collected them and published them in The Writings of the Last Generation.
Nearly six decades later, these writings are still immensely bold and thought provoking. The insights within challenge our conventions and compel us to ask some probing questions about ourselves and our societies. As you contemplate the content of these writings, you cannot help but wonder what our world would be like had we known about them decades ago, and what it will be like if we adopt even some of the ideas of this unlikely visionary henceforth.
Number of Pages: 200
ISBN #: 9781772280067