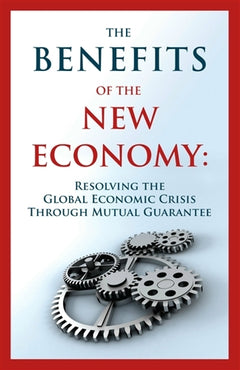 The Benefits of the New Economy
Have you ever wondered why, for all the efforts of the best economists in the world, the economic crisis refuses to wane? The answer to that question lies with us, all of us. The economy is a reflection of our relationships. Through natural development, the world has become an integrated global village where we are all interdependent.

Interdependence and "globalization" mean that what happens in one part of the world affects every other part of it. As a result, a solution to the global crisis must include the whole world, for if only one part of it is healed, other, still ailing parts, will make it ill again.

The Benefits of the New Economy: resolving the global economic crisis through mutual guarantee was written out of concern for our common future. Its purpose is to improve our understanding of today's economic turmoil—its causes, how it can be solved, and its anticipated outcome. The road toward a new economy lies not in levying new taxes, printing money, or in any remedy from the past. Rather, the solution lies with a society where all support each other in mutual guarantee. This creates a social environment of care and consideration, and the understanding that we will rise or fall together, because we are all interdependent.

This book contains thirteen "standalone" essays written in 2011 by several economists and financiersfrom different disciplines. Each essay addresses a specific issue, and can be read as a separate unit. However, one theme connects them: the absence of mutual guarantee as the cause of our problems in the global-integral world.

You can read these essays in an order of your choice. We, the authors, believe that if you read at least several essays you will receive a more comprehensive view of the required transformation in order to resolve the global crisis and create a sustainable, prosperous economy.
Edition: Soft cover
Number of Pages: 220
ISBN #: 978-1-897448-73-1