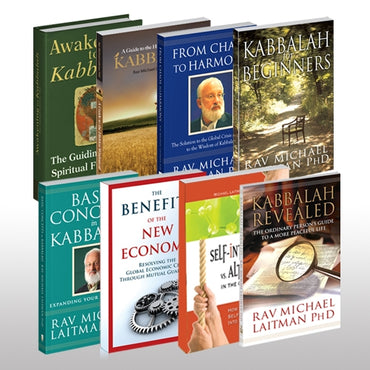 "Share the Wisdom" package
This package is designed for those who wish to inspire others, and share the method of correction with the world. 
It contains books geared to all types of personalities. 
The Benefits of the New Economy will suit anyone curious about why today's global economies are in terminal states, and how to bring them to balance with the laws of Nature.
Self-Interest vs. Altruism in the Global Era explains how humanity's desires evolved throughout the course of history, and why a change in desire brings about a change in the picture of reality. 
From Chaos to Harmony explains the evolution of the ego as the source of all the world's problems, and how humanity can invert this egoism and use it for advancement.
In addition, there are four books about the wisdom of Kabbalah itself, designed with beginning students in mind.
The Benefits of the New Economy
Self-Interest vs. Altruism in the Global Era
Kabbalah Revealed- A Guide to a More Peaceful Life
From Chaos to Harmony
Kabbalah for Beginners
Awakening to Kabbalah
Basic Concepts in Kabbalah
A Guide to Hidden Wisdom of Kabbalah
(titles may slightly vary based on your country)