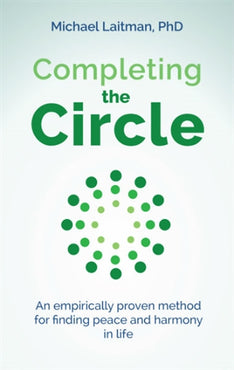 Completing the Circle (E-Book)
"We have a collective responsibility—to bring about a more stable and more prosperous world" (Christine Lagarde, Managing Director of the International Monetary Fund).

It wouldn't make headline news if a scientist declared that in today's world, we are all connected and dependent on each other. But it would become a main feature if a scientist said there is a proven way we can not only benefit from our connectedness, but actually enjoy it.

Completing the Circle: an empirically proven method for finding peace and harmony in life, presents precisely that. Over a period of four years, the Connection-Circle and Round-Table discussion formats have proven themselves as successful methods for resolving seemingly unsolvable conflicts, reassembling shattered relationships, and bringing together alienated families. These discussions have been taking place in the US, Europe, and Israel, all with resounding success.

Now, for the first time, Dr. Laitman has written down the knowledge base of his successful method, and added easy-to-implement sample circles. As we try out these innovative circles, we will discover new depths in our connections with each other, and fresh ideas for managing our lives more peacefully and harmoniously both for ourselves and our loved ones.
Number of Pages: 160
ISBN #: 9781772280081