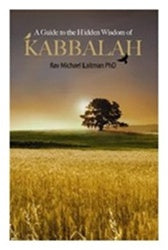 A Guide to Hidden Wisdom of Kabbalah (PDF)
An important goal in the study of Kabbalah is to use one's knowledge to influence one's destiny. Firstly, one has to realize what life is, what its meaning is, why it is given to us, where it begins, and where it ends.After pondering and meditating on the above questions, one has to relate all this to Kabbalah. Kabbalah states that the Creator created all the worlds simultaneously, including our world, and we human beings have to use Kabbalah in our world, the finite material world.
In a world of escalating crises, we need a light through the storm, a guide to help us see where things have gone wrong, and most importantly, what we can do to make our lives and our world more peaceful and sustainable. These essential needs are exactly why Kabbalah is being revealed to millions today. Kabbalah was originally designed as a method to improve life. Kabbalah itself is the tool, and A Guide to the Hidden Wisdom of Kabbalah is a means by which we learn to use the tool. In a graceful, easygoing style, this guide provides all the information you need to learn the basics of Kabbalah, as well as much needed suggestions for employing this age-old science to your day-to-day life.

Date Published: August 2009