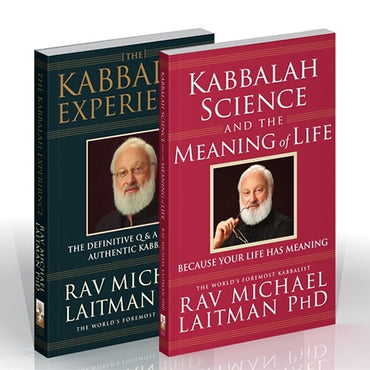 Kabbalah In Action (Print)
This package provides you with the foundation for the study of Kabbalah.

The Kabbalah Experience; The depth of wisdom revealed in the questions and answers of this book will inspire reflection and contemplation. Readers will also begin to experience a growing sense of enlightenment while simply absorbing the words on every page. The Kabbalah Experience is a guide from the past to the future, revealing situations that all students of Kabbalah will experience at some point on their journeys. For those who cherish every moment in life, the author offers unparalleled insights into the timeless wisdom of Kabbalah.

Kabbalah, Science and the Meaning of Life; Kabbalah, Science & the Meaning of Life traces the milestones of the evolution of science with which we are familiar, such as Newton's and Einstein's theories but goes further to present the science of Kabbalah as the basis for understanding the hidden parts of reality which scientists are now discovering. While other sciences research the definable world around us, Kabbalah teaches us how the spontaneous changes occurring within us affect our surrounding reality. The wisdom of Kabbalah enables us to monitor those changes and control them, and in so doing change our world for the better.

Kabbalah, Science and the Meaning of Life
The Kabbalah Experience