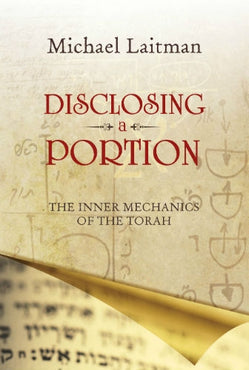 The Pentateuch, or The Five Books of Moses, is a fascinating odyssey of a nation in the making. Yet, underneath the tales that reveal human nature at its zenith and at its nadir lies an ocean of wisdom that, if uncovered, can alter reality itself. Dr. Michael Laitman's Disclosing a Portion: the inner mechanics of the Torah uncovers some of that wisdom in a manner none other has done before.
Throughout the year, each week observant Jews read a different portion of the Pentateuch (which they refer to as the "Torah"). Each portion deals with a different topic, and is titled according to the first word, or words, in the portion.
As you read through the portions, you will discover that each of the protagonists in the stories we've known for so long is not a myth, but a living force within. These forces direct and determine your path in life, and when you come to know them, you come to know your true self. Take your time to delve into the text, and portion by portion you will find new meanings that will enrich and empower you as you become the happy, confident person that you dream of being.
Edition: Soft cover
Number of Pages: 624
ISBN #: 9781897448977